It's been over three years since the UK voted for Brexit and just over one month since Boris Johnson took over as prime minister. During this time, we've seen a lot of activity in Westminster. Johnson has managed to hit the headlines nearly every day of his career as PM so far but the first week of September has been particularly significant...
But with all this information out there, it can be hard to know the really important bits to understand what actually happened, what it means and how it impacts us.
Luckily for you, we've done our research and put together a simple guide to the week's events. So, take a leaf out of Jacob Rees-Mogg's book, sit back, relax and have a read of our ultimate guide to the past week's politics so you can convince all your mates that you're a politics expert...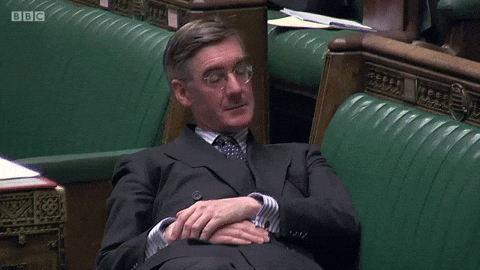 But first...
As mind-boggling as British politics can get and as much as you may feel like you never want to hear the word 'Brexit' again, if you're aged 18 or over, you MUST make you sure you...
Having your input is what democracy is all about and it is so important you take the opportunity to influence how the country you live in is run and that the issues important to you are addressed!
If you're not yet 18, there's still a great opportunity for you to get involved and vote for issues that are important to you. The British Youth Council is currently running a campaign with the UK Youth Parliament called Make Your Mark. This is an opportunity for 11-18-year-olds to vote for what issues need to be discussed in the House of Commons. You can vote for:
Mental health
Tackle child poverty
Votes at 16
Put an end to knife crime
A curriculum to prepare us for life
Protect the environment
Make the United Nations Convention on the Right of the Child (UNCRC) statutory law.
Stop street harassment
Tackling hate crime
Welcome refugees
With all this attention focussed on Brexit and Boris Johnson, it can feel like other issues are being overlooked. Have your say and register with your local school or youth club to get voting and have the issues important to you raised in parliament.
Now that's covered, let's begin with Boris Johnson's policies on Brexit...
To start with, let's get you clued up on the person who is currently in charge of the running of this country: Boris Johnson.
As there's so much to cover, if you're unfamiliar with Boris as a politician, this video is a good summary of his background.
So what are Boris Johnson's policies on Brexit? Well, the key things you need to know are:
He was a Leave campaigner during the 2016 referendum.
He's really keen for us to leave the EU by 31st October 2019, no matter what. "Do or die" has been a bit of a catchphrase of his and he has most recently been quoted to say he would rather 'be dead in a ditch' than to ask for a delay to Brexit. Now that IS a statement!
In terms of deal or no-deal, this suggests that he is willing to execute a no-deal Brexit
The impact a no-deal Brexit would have on the country isn't known for certain but its implications are a big cause for concern for many people. There are a lot of MPs who will do almost anything to ensure we avoid a no-deal Brexit.
As Boris hasn't ruled out a no-deal Brexit if we haven't agreed on a deal by 31st October, a lot of politicians who are against a no-deal Brexit are doing their best to block Brexit from happening on Halloween. Which takes us to the events of this week...
It all started when Johnson decided to suspend parliament
Just a few weeks before the Brexit deadline, on Wednesday 28th August, Boris Johnson asked the Queen to suspend parliament (known as prorogation) for 5 weeks. And she accepted. A lot of people were against this and there were a lot of protests held in major UK cities.
Suspending parliament from the 9th September until mid-October will have a major impact on Brexit as it would significantly limit MP's abilities to block Boris Johnson from seeing it through on the 31st October, without a deal.
Prorogating parliament is a fairly normal occurrence. It signifies the ending of a parliamentary 'session', which usually lasts about a year. This current session has been running for almost two years, which is unusually long, to tackle the legislation for Brexit.
Although, it should also be noted that Johnson's 5 weeks of suspension is also unusually long.
Proguing parliament so close to the Brexit deadline increases the possibility of a no-deal Brexit happening and allows Boris to make more decisions without being scrutinised by other MPs and parties.
This has meant that MPs opposed to a no-deal Brexit only had one week to do all they could to prevent it from happening.
Which led on to the events of Tuesday, 3rd September...
A lot happened on Tuesday, as the constant pinging of news alerts on your phone might have led you to believe.
The day started with MPs successfully seizing control of business from government, allowing them to bring in a bill to block a no-deal Brexit on the 31st October. This bill would force Boris to ask for a delay to Brexit until 31st January 2020. 21 Conservative MPs rebelled against the government. This also had huge implications for the Conservative party as Johnson had threatened to sack any Tory MPs who voted against him.
One significantly dramatic moment of the day was when one of Johnson's MPs, Phillip Lee, crossed the floor and went to sit with the Liberal Democrats, signalling a change in party (which is pretty dramatic!).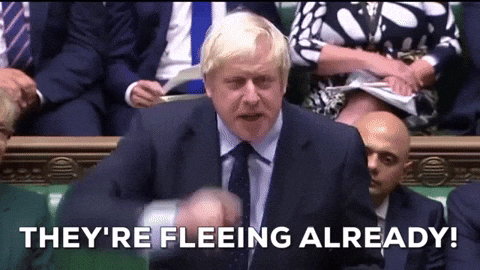 This has resulted in Johnson responding with the threat of holding a general election if MPs continue to try and block Brexit from happening at the end of October.
So what happened next..?
We started Wednesday the 4th September with Tory rebels and opposition MPs having successfully reached the first step in passing the law designed to prevent a no-deal Brexit (remember that bill we mentioned earlier?) through the House of Commons. Boris responded by bringing forward a motion for an early general election.
Labour leader, Jeremy Corbyn, responded by stating that the bill needed to be passed before a general election. This is a big move from him, as it would usually be expected for him to be pro-general-election, as it gives him the chance to campaign and potentially take over from Boris.
Corbyn's stance must have reflected the opinions of other MPs as Thursday saw the results of parliament's vote for a snap general election.
The government needed a two-thirds majority for Boris' motion to pass and I'm sure you know by now the outcome...
The general election was successfully blocked.
This was the first time in UK history that the opposition has rejected the invitation of an election.
On the other side, the bill that's intended to block a no-deal Brexit passed through the House of Commons in one day and reached the house of Lords.
What did that mean for Boris Johnson and his Brexit?
Well, Boris stuck to his guns. He gave a public speech in which he promised more money for the police force, but also made some dramatic statements that gave a very clear indication of his thoughts towards Brexit, stating he would rather be 'dead in a ditch' than ask the EU to delay Brexit as the bill demands.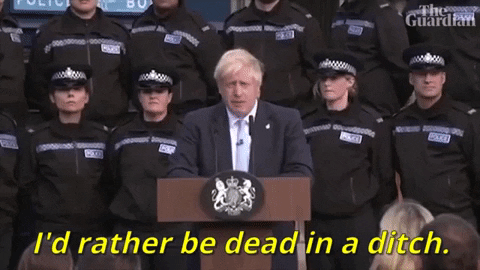 In the meantime, you may have forgotten amongst the drama, but the 5-week suspension of parliament has been creeping closer. To counteract it, some lawyers representing businesswoman, Gina Miller presented the argument that Boris Johnson's proguing of parliament was unlawful. However, this was quickly dismissed by the High Court of England and Wales on the grounds that it was a 'political matter'.
So where are we now?
By the end of the week, and this week, Johnson has found himself searching for a way around what is now referred to as 'Hilary Benn's law' to persist with his efforts of making Brexit happen on the 31st October.
As it stands, however. The successful passing of Hilary Benn's law during the first week of September means that Boris Johnson is legally required to seek postponement of Brexit if no deal is agreed by 31st October. Something that Boris is still stating he will not do.
He also finds himself facing a legal court case on the matter of whether his decision to suspend parliament was unlawful. On Wednesday, 11th September, the Scottish High Court ruled that the prorogation order WAS unlawful. The matter will be brought to the Supreme Court in an emergency hearing on the 17th of September.
In the meantime, parliament has now been suspended until the 14th of October.
Another great way to understand this week's events is the Dail Mash's account of what's happened in Parliament this week, told via Street Fighter ii...
Found this article useful?
At Fledglink, we want to keep you informed and up to date on everything that's relevant to you. Our in-app discovery is fully personalisable and includes hundreds of useful resources, just like this one to help you prepare for the future. Download today to learn more!